May 13, 2013 · 2:09 pm
See on Scoop.it – Social Media for Social Good in Africa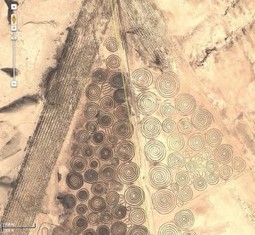 Wind erosion has lead to an incredible discovery through google maps.
See on www.exposingthetruth.co
I personally am a frustrated musician, as really wish it was my full time job and maybe envy those musicians who do not have to sit in an office all day, and be paid to have fun. Apart from this, I am definately a lover of the "big sound", where rock joins with choir, orchestra and band to create more than sound, an orchestrated convergence of instruments, rythm and voice which makes your hair stand on end, a total bliss which resonates throughout your entire soul and being.
There have been some mighty honorable renditions of Led Zeppelin's Stairway to Heaven, but my personal opinion,this is one of the best. Played by Heart (Nancy & Ann Wilson) at The Kennedy Centers Honours ceremony on Dec 2, 2012,in front of the three remaining members of the legendry British Rock Band, it made Robert Plant cry tears of joy. (The band was being honored by Barack Obama alongside David Letterman and Dustin Hoffman.) Watch it and understand why: When the choir kicks in and Ann Wilson wails Plant's famous: "And as we wind on down the road…" you might shed a tear or two yourself…
January 20, 2013 · 4:19 pm
If you visit a cyber cafe and find any black pin attached to the CPU as shown in the picture, do not use that system. This pin is actually a connection which saves all your data you enter in the system. It is a hardware key logger, very powerful, it records each and every action on your system. It is a risk to your privacy over the Internet; at risk are passwords, banking, or any other data you enter.
Please *SHARE* this information among your friends and secure them too…
· 4:05 pm
1. If you've got an itch in your throat, scratch your ear. When the nerves in the ear get stimulated, they create a reflex in the throat
that causes a muscle spasm, which cures the itch.
2. Having trouble hearing someone at a party or on the phone?
Use your right ear it's better at picking up rapid speech. But, the left is better at picking up music tones.
3. If you need to relieve yourself BADLY, but you're not anywhere
near a bathroom, fantasize about RELATIONS. That preoccupies your brain and distracts it.
4. Next time the doctor's going to give you an injection, COUGH as the needle is going in. The cough raises the level of pressure in your spinal canal, which limits the pain sensation as it tries to travel to your brain.
5. Clear a stuffed nose or relieve sinus pressure by pushing your tongue against the roof of your mouth then pressing a finger between your eyebrows. Repeat that for 20 seconds it causes the vomer bone to rock, which loosens your congestion and clears you up.
6. If you ate a big meal and you're feeling full as you go to sleep,lay on your left side. That'll keep you from suffering from acid reflux it keeps your stomach lower than your esophagus, which will helps keep stomach acid from sliding up your throat.
7. You can stop a toothache by rubbing ice on the back of your hand, on the webbed area between your thumb and index finger. The nerve pathways there stimulate a part of the brain that blocks
pain signals from your mouth.
8.) If you get all messed up on liquor, and the room starts spinning, put your hand on something stable. The reason: Alcohol dilutes the blood in the part of your ear called the cupula, which regulates balance. Putting your hand on something stable gives your brain another reference point, which will help make the world stop spinning.
9. Stop a nose bleed by putting some cotton on your upper gums right behind the small dent below your nose and press against it hard. Most of the bleeding comes from the cartilage wall that divides the nose, so pressing there helps get it to stop.
10. Nervous? Slow your heart rate down by blowing on your thumb. The vagus nerve controls your heart rate, and you can calm it down by breathing.
11. Need to breathe underwater for a while? Instead of taking a huge breath, HYPERVENTILATE before you go under, by taking a bunch of short breaths. That'll trick your brain into thinking it has more oxygen, and buy you about 10 extra seconds.
12. You can prevent BRAIN FREEZE by pressing your tongue flat against the roof of your mouth, covering as much surface area as possible. Brain freeze happens because the nerves in the roof of your mouth get extremely cold, so your brain thinks your whole body is cold. It compensates by overheating which causes your head to hurt. By warming up the roof of your mouth, you'll chill your brain and feel better.
13. If your hand falls asleep, rock your head from side to side. That'll wake your hand or arm up in less than a minute. Your hand falls asleep because of the nerves in your neck compressing so loosening your neck is the cure. If your foot falls asleep, that's governed by nerves lower in the body, so you need to stand up and walk around.
14. Finally, this one's totally USELESS, but a nice trick. Have someone stick their arm out to the side, straight, palm down. Press down on his wrist with two fingers. He'll resist, and his arm will stay horizontal. Then, have him put his foot on a surface that's half an inch off the ground, like a stack of magazines, and do the trick again. Because his spine position is thrown off, his arm will fall right to his side, no matter how much he tries to resist.
15. Got the hiccups? Press thumb and second finger over your eyebrows until the hiccups are over – usually, in a short while.
I found this information on http://www.facebook.com/Original.Everything . Kudos to this Facebook group, as it is a place to share all the amazing things about our beautiful world.
January 14, 2013 · 11:40 pm
See on Scoop.it – Social Media for Social Good in Africa


Radical new proposals show how South Africa's power needs could be met by renewable energy and energy efficiency measures – and not by coal and nuclear.
Ian Anderson's insight:
#Smart Energy Plan have urged government to reconsider its plans to build new coal and nuclear plants.Renewable energy and small-scale energy plants owned and run by individuals and communities, would be a smarter, healthier, more equitable.
option, the report
See on www.cbn.co.za
January 4, 2013 · 7:17 pm
Take time to read this, it's really worth it…
Professor : You are a Christian, aren't you, son ?
Student : Yes, sir.
Professor: So, you believe in GOD ?
Student : Absolutely, sir. Professor : Is GOD good ?
Student : Sure.
Professor: Is GOD all powerful ?
Student : Yes.
Professor: My brother died of cancer even though he prayed to GOD to heal him. Most of us would attempt to help others who are ill. But GOD didn't. How is this GOD good then? Hmm?
(Student was silent.)
Professor: You can't answer, can you ? Let's start again, young fella. Is GOD good?
Student : Yes.
Professor: Is satan good ?
Student : No.
Professor: Where does satan come from ?
Student : From … GOD …
Professor: That's right. Tell me son, is there evil in this world?
Student : Yes.
Professor: Evil is everywhere, isn't it ? And GOD did make everything. Correct?
Student : Yes.
Professor: So who created evil ?
(Student did not answer.)
Professor: Is there sickness? Immorality? Hatred? Ugliness? All these terrible things exist in the world, don't they?
Student : Yes, sir.
Professor: So, who created them ?
(Student had no answer.)
Professor: Science says you have 5 Senses you use to identify and observe the world around you. Tell me, son, have you ever seen GOD?
Student : No, sir.
Professor: Tell us if you have ever heard your GOD?
Student : No , sir.
Professor: Have you ever felt your GOD, tasted your GOD, smelt your GOD? Have you ever had any sensory perception of GOD for that matter?
Student : No, sir. I'm afraid I haven't.
Professor: Yet you still believe in Him?
Student : Yes.
Professor : According to Empirical, Testable, Demonstrable Protocol, Science says your GOD doesn't exist. What do you say to that, son?
Student : Nothing. I only have my faith.
Professor: Yes, faith. And that is the problem Science has.
Student : Professor, is there such a thing as heat?
Professor: Yes.
Student : And is there such a thing as cold?
Professor: Yes.
Student : No, sir. There isn't.
(The lecture theater became very quiet with this turn of events.)
Student : Sir, you can have lots of heat, even more heat, superheat, mega heat, white heat, a little heat or no heat. But we don't have anything called cold. We can hit 458 degrees below zero which is no heat, but we can't go any further after that. There is no such thing as cold. Cold is only a word we use to describe the absence of heat. We cannot measure cold. Heat is energy. Cold is not the opposite of heat, sir, just the absence of it.
(There was pin-drop silence in the lecture theater.)
Student : What about darkness, Professor? Is there such a thing as darkness?
Professor: Yes. What is night if there isn't darkness?
Student : You're wrong again, sir. Darkness is the absence of something. You can have low light, normal light, bright light, flashing light. But if you have no light constantly, you have nothing and its called darkness, isn't it? In reality, darkness isn't. If it is, well you would be able to make darkness darker, wouldn't you?
Professor: So what is the point you are making, young man ?
Student : Sir, my point is your philosophical premise is flawed.
Professor: Flawed ? Can you explain how?
Student : Sir, you are working on the premise of duality. You argue there is life and then there is death, a good GOD and a bad GOD. You are viewing the concept of GOD as something finite, something we can measure. Sir, Science can't even explain a thought. It uses electricity and magnetism, but has never seen, much less fully understood either one. To view death as the opposite of life is to be ignorant of the fact that death cannot exist as a substantive thing.
Death is not the opposite of life: just the absence of it. Now tell me, Professor, do you teach your students that they evolved from a monkey?
Professor: If you are referring to the natural evolutionary process, yes, of course, I do.
Student : Have you ever observed evolution with your own eyes, sir?
(The Professor shook his head with a smile, beginning to realize where the argument was going.)
Student : Since no one has ever observed the process of evolution at work and cannot even prove that this process is an on-going endeavor. Are you not teaching your opinion, sir? Are you not a scientist but a preacher?
(The class was in uproar.)
Student : Is there anyone in the class who has ever seen the Professor's brain?
(The class broke out into laughter. )
Student : Is there anyone here who has ever heard the Professor's brain, felt it, touched or smelt it? No one appears to have done so. So, according to the established Rules of Empirical, Stable, Demonstrable Protocol, Science says that you have no brain, sir. With all due respect, sir, how do we then trust your lectures, sir?
(The room was silent. The Professor stared at the student, his face unfathomable.)
Professor: I guess you'll have to take them on faith, son.
Student : That is it sir … Exactly ! The link between man & GOD is FAITH. That is all that keeps things alive and moving.
P.S.
I believe you have enjoyed the conversation. And if so, you'll probably want your friends / colleagues to enjoy the same, won't you?
Forward this to increase their knowledge … or FAITH.
By the way, that student was EINSTEIN.
Filed under Social Media for Cause
Tagged as abudance, awakening, boldness, character, development, education, faith, intellectualization, life, science, spiritual, student, teacher, tenacity, understanding, vision

January 3, 2013 · 1:42 pm
See on Scoop.it – Social Media for Social Good in Africa


Ian Anderson's insight:
South Africa is in conflict, and people are shooting in all directions as to whom is to blame. Past racism politics is one of them. The problem is much more complex, with over 300 different cultural tribes in South Africa alone, China exploiting the African continents rich resources, with no scruples concerning promoting bribery and corruption amongst it's morally corrupt and weak leaders.
As mentioned on Facebook by Lazola Ndamase, says:
"This year was a turning point in our society. It was for the first time that a black government turned its guns and mowed down black workers in a labor dispute. It was the first time unions and some union leaders rejected the demands of workers and united with the bosses. It was for the first time that the ANC endorsed the barbaric acts of Police in the name of the rule of law.
But this was also a bright year. It marked a turning point in labor disputes. It was the first time workers realized that power lies in their hands and not in the hands of unions or union bosses. It was the first time that workers realized that unions are their own creation and should be answerable to them. I hope workers carry the bravery of this year into the next year. I hope workers declare the next years as years of heightened mass action against the capitalist system and the capitalist class."
Africa is diverse, it has it's diverse and unique set of problems.Instead of throwing aid and 1st World protocol, my personal opinion is that Africa is need of prayer, for good strong ethical leaders to bring restoration and hope amongst it's people…We have the resources, we just need Faith and encouragement.
See on www.thoughtleader.co.za